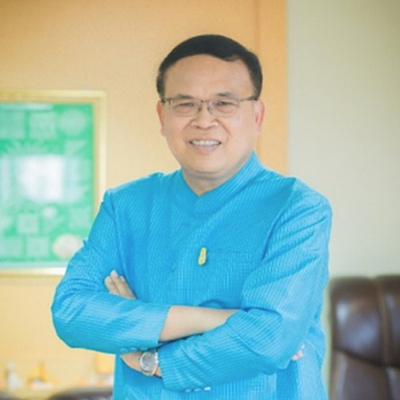 DR. Wijarn Simachaya is the current President of Thai Environment Institute (TEI), the Secretary-General of Thailand Business Council for Sustainable Development (TBCSD), a Chairman of Circular Economy Sub-committee under National Agenda BCG and a President of Thai Sustainable Consumption and Production Network. His various responsibilities in the past were natural resources and environmental plans, strategy development, pollution control plans as well as international cooperation on natural resources and environment issues. He was also a representative of the ministry of various UN, Sub-regional, and ASEAN / ASEAN Plus 3 Forums. He had played an important role to develop the ASEAN Haze-Free Road Map by 2020, and Bangkok Declaration on Combating Marine Plastic Debris in ASEAN region, endorsed by ASEAN Summit in June, 2019. He worked as a leader of green growth and government reform strategy development for Thailand. He currently works with various public-private agencies, civil societies and communities on the ground to develop environmental management models for the country, and moving toward sustainable development. Currently, he has also served an environmental expert in various nation committee such as Bio-Circular-Green Economy Model, Coastal and Marine Resources Administration Committee, Circular Economy Sub-Committee, National Water Resources Committee, Chairman of Board of Directors of Thailand Greenhouse Gas Organization, Chairman of Bio-based Economy Development Office (Public Organization) etc.
DR. Simachaya joined the Office of Environmental Policy and Planning Board in 1984. He used to serve as a director of the Environment Division of the Mekong River Commission Secretariat (International Organization) in Lao PDR during 1997-1998. He served as several high ranking positions in the Ministry, including Director-General of the Pollution Control Department for 2 times and the Secretary-General of the Office of Natural Resources and Environmental Policy and Planning. His last position with government was the Permanent Secretary of the Ministry of Natural Resources and Environment until his retirement, 30 September, 2019.
DR. Simachaya holds 2 Bachelor's degrees in Chemical Education and Laws from Chiang Mai and Ramkhamhaeng Universities, respectively, a Master's degree in Environmental Science from Kasetsart University and a Graduated Diploma in Sanitary Engineering from Chulalongkorn University. His highest degree is a Doctorate in Philosophy (Ph.D.) in Environmental Engineering from University of Guelph, Canada in 1990. He also received honorary doctoral degrees in Environmental Science, Environmental Management and Environmental Education from 7 leading universities in Thailand.